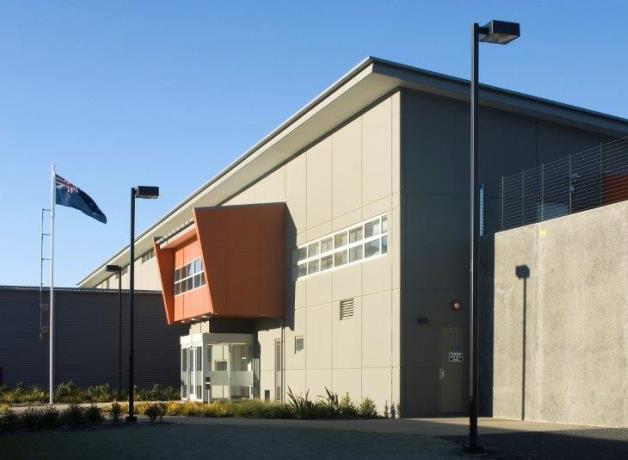 Ten years ago this month the first prisoners arrived at Otago Corrections Facility.
"This is a significant milestone for the prison," says Acting Prison Director Lyndal Miles.
"Ten years ago, Corrections closed the old 1896 Dunedin Prison and with that signalled a move to a new style of prison."
The new prison was officially opened by then Prime Minister Helen Clark on 10 May 2007.
Otago Corrections Facility was built as part of the Regional Prisons Development Programme (RPDP), when the Government built four new regional prisons to help meet forecast growth in the prison population, to develop prison sites outside urban centres that would encourage local development and employment, and to help maintain family connections for regional offenders.
The RPDP followed a long period of building "fast track" low security accommodation. As a result, the provision of medium security accommodation had become critical.
The $1 billion programme included new prisons in Northland, Auckland, Waikato and Otago. The new facilities were large scale, complex and technically demanding projects involving multiple and diverse stakeholders.
Otago Corrections Facility (OCF) was the fourth, and last, of the regional prisons to be built.
The New Zealand corrections system must provide a balance of maximum to low security accommodation in order to anticipate, and meet, the requirements of the future prison population. Because Corrections has no control over sentence type or length, it must ensure that planning incorporates all likely eventualities.
Like its 'sister' prison at Spring Hill in Waikato, OCF adopted a "campus" model of design with a large central open space and units and industry around the rim.
Campus style facilities were consistent with Corrections' operational objectives, providing "normalcy" around daily living; flexibility around the prison staffing mix, supporting rehabilitation and providing for cultural facilities and services by allowing for proximity to industry, training, programmes facilities and a communal whare space.
The construction team met with some challenges during the building of the prison, particularly around getting consent for and building a large, complex structure in a regional area remote from experienced construction resources.
The OCF prison build was a $176M project involving 15 different construction organisations and their subcontractors.
The OCF original build was for a 335-bed corrections unit accommodating male prisoners ranging from low to high-medium security and employing 200 staff.
The prison build took 27 months to complete from consents and comprised 27 individual buildings inside a secure perimeter fence with a single, controlled point of entry.
It was vital to coordinate all trade services as the level and quality of installation on these projects varied from normal trade practices because of the environment. With 650 trades people on site this was no small task. Over 4,200 concrete panels were cast and erected, there were complex electrical and mechanical installations and all structures had to meet the Department of Corrections' exacting standards and requirements.
At opening, the facility offered three rehabilitation programmes.
The Medium Intensity Rehabilitation Programme is designed for prisoners in the middle risk range – those not considered high risk but still enough of a risk to warrant rehabilitation.
The Short Rehabilitation Programme is a brief rehabilitation programme aimed at a smaller number of prisoners who require rehabilitation but do not have enough time in their sentence to complete a longer programme.
A Drug Treatment Unit for prisoners with drug and alcohol problems.
Today, following double bunking in 2009, the prison can hold 484 prisoners from low to high-medium security.
"The operational objectives of Corrections ten years ago were much as they are today," says Lyndal, Miles.
"This is, to protect the public, reduce re-offending and provide for the safe, secure and humane containment of prisoners.
"People are sentenced to prison as a punishment for their crimes but our role, while people are in prisons, is not to punish," says Lyndal.
"Our role is to provide a safe, humane and engaging environment for containment and rehabilitation of prisoners in our care, and to prepare the men with the skills they need for successful reintegration back to the community.
"We are very proud of the work done at our prison, by our staff and partner organisations. We are also very proud of the place we hold in our community. Our 10th anniversary marks a significant milestone for the prison and we take the time to acknowledge the journey thus far and also to look ahead to continued service to the people of Otago and beyond."