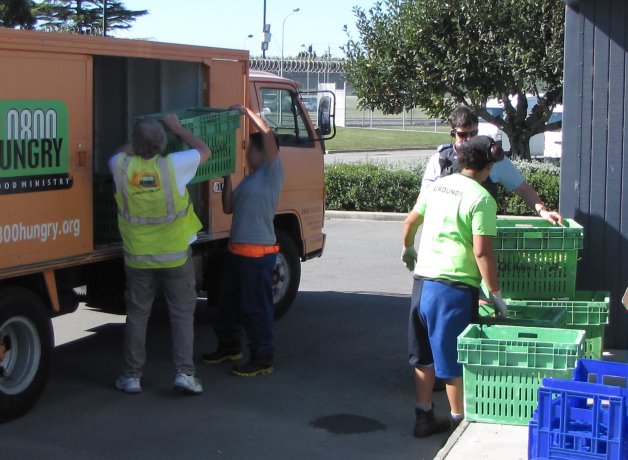 Christchurch Women's Prison's horticulture training course is making a difference in the local community by providing vegetables to families in need.
The vegetable garden is thriving with the attention of the women on the programme providing the prison with an opportunity to share the produce with others.
"Through the programme the women are gaining skills and a qualification in an industry with plenty of employment opportunities," says Christchurch Women's Prison Residential Manager, Richard Shuker.
"The training is practical and allows them to work outdoors, get the buzz of growing food and learn skills they can also use to supplement their family diet on release."
The prison garden produce is gifted to local families through charity food supplier 0800 Hungry and specialist family violence services, Aviva.
"Both these charities are important to the women in the prison," says Richard.
The prison has been supplying around 10 to 20 large vegetable bins of produce at a time to 0800Hungry for the past year. 0800 Hungry is a non-profit Christian ministry that delivers food parcels through over 150 churches and agencies around Canterbury.
The vegetables are a mix of seasonal produce including corn, cabbages, pumpkins, silverbeet, courgettes, broccoli and tomatoes.
"Many of the women in prison are mothers," explains Richard. "They know what it's like to struggle to make ends meet. Fresh vegetables are expensive and can be a great luxury for some families."
"Making these vegetables available, free to families, can make a real difference to their meal options and also frees up some money for other family expenses."
0800Hungry's Kerry Bensemann says he has been collecting and gifting food to local families in need for many years and he is extremely pleased with the quality and freshness of the produce.
This month the prison will also have vegetables available for prisoners' families to take home as they leave after visits.
"Our new partnership with the women's prison garden is very successful," says Kerry.
"The produce is usually picked, washed and packed that morning and requires no further sorting before being added to the food parcels."
"Go the Vegie Girls & Go Cath. Bless you to all who are involved." he says.