Corrections Works March 2015
From our Chief Executive
Welcome to the first edition of Corrections Works for 2015. This year we mark the twentieth anniversary of the Department of Corrections.
Probation and prison services have a long history in New Zealand, but in 1995 these services were separated off from the Department of Justice and brought together under one, stand-alone organisation – the Department of Corrections.
This milestone offers us a chance to acknowledge the work of the many thousands of people who have worked for and with the department over the years.
Addressing the deep-rooted issues and behaviour that lead to re-offending remains one of our biggest challenges. This is as true now as it was 20 years ago, as can be seen in this comment from an early edition of Judges' Update from 1998: "We know that many offenders graduate from Community Corrections to prisons, and others are recycled through the system. Usually, they've had years of role-modeling bad behaviour – we have comparatively little time to turn that around."
The majority of offenders are serving a short (less than two year) sentence in prison or the community. The reality is we have a brief window of opportunity to try to prevent the damage already done to them, and by them, leading on to further offending. While at times, it can be a difficult and thankless task, when you see a true difference in people who have a real hope for the future, it can be incredibly rewarding. This is what motivates our staff and all those volunteers, employers and colleagues in government agencies we work with every day.
In this edition of Corrections Works, you will meet some of the people committed to addressing the causes of offending and making our communities safer.

Ray Smith
CHIEF EXECUTIVE
---
Let us know if you have any ideas about stories that you'd like to see in upcoming issues. You can email commdesk@corrections.govt.nz.
Helping violent men change
Te Whare Manaakitanga, at Rimutaka Prison, near Wellington, is Corrections' longest-running violence prevention unit. It opened in 2001 and over the years the staff have worked with some of our most challenging prisoners – helping them to gain insight into their violent behaviour and teaching them the skills to support change.


Corrections Works met with Principal Psychologist Jonathon Todd-Downing to discuss the work at the whare.

CWorks: What are some of your day-to-day tasks?
JTD: I have the clinical responsibility for the unit. This includes having regular meetings with the principal corrections officer to discuss the day-to-day running of the unit – for example, we recently decided to prohibit offenders from going into each others' cells as this was contributing to problems such as gambling or being threatening. I attend daily risk handover meetings, supervise programme facilitators and other psychologists, and supervise the writing of treatment reports and case management reviews.
I also meet directly with prisoners, especially if an issue has escalated. Recently I met with a man who was persistently losing his temper and shouting at officers. The issue had been addressed in treatment, but was continuing, so I, along with the programme facilitators and one of the corrections officers, went to talk to him. It turned out he was having relationship problems at home and this was coming out in his behaviour.
One of the most important things I do is to attend the weekly community meeting; this is when everyone – all staff and prisoners – meet. It's a forum to support therapeutic change, to talk about problems and get and give feedback, and reflect in public.
CWorks: Reflecting in public sounds like a hard thing to do.
JTD: Yes, it is. There are a lot of 'rules' prisoners have to break to have open therapeutic conversations. There's the generic prison sub-culture that says 'don't talk about your problems; don't be vulnerable. Be tough'. The gang culture says the same, and also 'don't talk about what's going on to those in authority'. Then there's the personal embarrassment of opening up in front of people. We have to talk a lot about these cultures and relationships. We do this to try to create an atmosphere where people feel safe to discuss these things.
CWorks: You've had a lot of experience working with violent offenders. Is working here similar to working in the UK?
JTD: The treatment approach is similar – both countries believe in rehabilitation, and a lot of that is psychological.
We're governed by evidence-based 'What Works' practice and the principles of Risk, Need and Responsivity. We favour a cognitive-behavioural* approach as the research tells us this is the most effective. Also, there's lots of supervision, support and training for staff in both countries, and lots of on-going auditing of practice. However, there are differences.
Here we have Maori and Pacific Island cultural approaches which impact on practice and how to best deliver treatment. The gang culture is more prevalent here.
* A cognitive behavioural approach is one that aims to reduce problematic behaviour by focussing on the relationship between cognitions (what we think), affect (how we feel) and behaviour (what we do).
CWorks: What are some of the challenges of working with these men?
JTD: Developing a therapeutic culture where we have a safe, positive learning environment in a prison is always challenging. We need to find the right pathways for the men when they leave us so they can consolidate the skills they've learned. We have a dedicated reintegration worker based at the whare, which helps. We also need to make sure the staff don't get burned out; it's a fast-paced place to work and the prisoners require a high level of management.
CWorks: And some of the successes? Or the things that give you job satisfaction?
JTD: All the staff here are committed to change, resilient and enthusiastic. We're all here to help the men turn their lives around. We see success in the relationships we build with the men, we see them develop motivation and gain insight. For example, one man who was very hostile and aggressive all the time when he came and who said 'I'll be going straight back to the gang when I leave' is now a lot more inclined to sit and talk and listen. He's aware of his decisions and admits there's a lot about gang life he doesn't like.
We need to ensure we can offer a progression pathway once they leave us, so they can continue to make gains. We know, though, that there are other social problems our men have to manage in order to build productive lives and survive in the community without offending.
Originally from the UK, Jonathon trained as an occupational psychologist and was involved in research and academia until transferring to forensic psychology for the UK Prison Service in 1999.
From 2004 he worked at the Westgate Unit in the North East of England on the Dangerous and Severe Personality Disorder Project, assessing and treating a mix of violent and sexual offenders.
He moved to New Zealand and took up the post of Principal Psychologist at Te Whare Manaakitanga in early 2014.
Mental health and suicide awareness training for probation staff
Mental wellbeing is an important factor when it comes to being able to carry out activities, make decisions and communicate with those around you.


For offenders, mental health issues can make it harder for them to engage in rehabilitation programmes and comply with their conditions, increasing the likelihood of re-offending.
It's important that probation staff are able to recognise when an offender may be experiencing mental distress
and know how to respond appropriately.
Mental health and suicide awareness training for probation staff began in September 2014 at Community Corrections sites across the country. The training includes how to recognise mental distress, techniques and skills to support offenders through this time, and options if the distress is considered significant, such as referrals to mental health providers or emergency services. It is important that staff feel they can take the right action at the right time.
Julian Van Rheede, Acting Practice Leader at Otara Community Corrections, delivered the training to his staff.
"Some of the more interesting parts of the sessions included staff learning how wide ranging mental health issues can be; many were not aware that stress and eating disorders, if not dealt with, are also identified as some kind of mental illness," said Julian.
"Overall, staff generally feel prepared to deal with mental health issues in the offenders we manage. I think the training expanded upon staff knowledge and encouraged them to make referrals to service providers to deal with extreme cases," said Julian.
Day two of the training is due to be delivered to probation staff from April 2015. This session focuses on suicide awareness and includes information about the reasons why people self-harm.
Kerry Consedine, Senior Practice Adviser says "we want staff to come away from this training with increased knowledge about suicide risk factors, where they can seek support, and confidence to talk about suicide with offenders and their peers."



Doing more to keep kids safe
More than 20,000 New Zealand children have at least one parent in prison, and many more children of offenders in the community have contact with Corrections staff.


We have reinforced our commitment to safeguarding the youngsters we encounter with some new resources and approaches.
Corrections has implemented a child protection protocol that guides staff on taking action if they have concerns about the safety or well being of any child.
The protocol formalises our commitment to keep children safe, provides a framework for staff to work within when dealing with child protection issues, and helps staff identify the signs of child abuse and neglect.
The protocol includes a range of new processes to improve the safety of children that Corrections staff come into contact with. One new process which will soon be rolled out nationally will restrict access to child visitors for prisoners with convictions for offending against children.
Our staff have a 24-hour direct line to Child, Youth and Family (CYF) to seek advice on urgent matters. Since the line was set up, dozens of formal notifications have been made.
Corrections has also established dedicated on-site support in prisons and the community through our Child Protection Champions. This role is given to nominated staff, many with a special interest and professional background in child protection. They are instrumental in training and supporting fellow frontline staff in the protocol.
Our champions
Manukau Probation Officer Joy Shaw is a former social worker who is also part of the district's Family Violence team. Taking on the champion role was a natural fit.
Joy says part of the challenge has been showing staff how working with the whole whanau – not offenders alone – can make our efforts more effective. "Children are just as important as offenders in our work – if not more so! They're vulnerable and they have no voice. Our team prefers to make home visits rather than have offenders report in so we can assess the wider environment." Joy says every offender on her caseload has children either in their care, or being cared for by someone else. "For me it just makes sense."
Catherine Russell is a case manager and child protection champion at Auckland Region Women's Corrections Facility. She says many of the notifications she's been involved in have come from prisoners concerned about their babies and children being cared for by others outside.
"They're high-risk mothers with complex issues. Many of them have been the main caregiver before they came to prison. They sometimes don't know where their children are or how they're being cared for.
"We have an excellent relationship with CYF here and they follow up concerns we report to them."
Catherine says staff have opportunities every day to keep children safe by raising their concerns with the right people. "We're gathering information all the time in our jobs, and our approach now is to do something pro-active when we suspect a child is at risk. We all have an obligation."
New laws enhance public safety
In December 2014, the government passed two bills that will enhance Corrections' ability to monitor high risk offenders who have come to the end of their prison sentences.
The Public Safety (Public Protection Orders) and Parole (Extended Supervision Orders) Amendment Acts are aimed at protecting the public from serious violent and sexual offenders.
A public protection order (PPO) is a High Court order that allows for the civil detention of individuals who have served a prison sentence, but still pose a very high risk of imminent and serious sexual or violent offending. These individuals would be housed within a secure residence on prison grounds. They are not prisoners; they are civil detainees.
Extended supervision orders (ESOs) cover serious sexual or violent offenders who do not meet the test for a PPO but still pose a high risk of sexual offending, or very high risk of violent re-offending. Monitoring a person's activity or location over a longer period reduces the likelihood of them being in a situation where they are at risk of re-offending. It means the offender remains visible to relevant agencies so any risk is quickly identified and managed by the right people. ESOs involve offenders being supervised in the community.
For more information about the orders please visit our website:
See-through TVs make prisons more secure
To make our prisons safer and more efficient, Corrections has introduced a television rental scheme for all prisoners.

The rental TVs are made of see-through plastic so contraband cannot be easily hidden inside, and are made secure so prisoners cannot use them to access the internet or other illicit activities.
Prisoners are able to rent a TV for $2.00 a week. If they say they can't afford it, we offer a free introductory 90 day period, which gives us time to assess their eligibility to apply for help under our financial hardship policy.
Previously, prisoners provided their own TVs, which meant we had over 6000 TVs in our prisons. With so many prisoner owned TVs in circulation we spent a significant amount of time and money on transportation and checking TV's for electrical compliance and contraband, and looking into incidents and investigations.
Despite rigorous checks when TVs first arrived into prison, there were cases of prisoners being able to modify them to store contraband, and, on newer models, use transmitting and external storage devices such as USB ports.
The rental television scheme has been gradually rolled out from late 2013, and the process successfully completed late 2014.

Seek volunteering
Seek have launched a new volunteering site in New Zealand; www.seekvolunteer.co.nz.

Corrections has started to use this site to advertise some of the volunteering opportunities at Corrections: www.seekvolunteer.co.nz/opportunities
Volunteering provides opportunities for those seeking to use their personal and professional skills and talents to support offenders to rehabilitate and reintegrate back into the community. It also provides a unique community connection and relationships that Corrections staff are unable to provide.
There are a range of different services where your skills can be of assistance. These include educational support for numeracy and literacy, arts and crafts, spiritual services, and support and mentoring.
Maturity, integrity, a pro-social attitude and an ability to cope with difficult people and situations are key attributes
needed in volunteers intending to work with offenders.
Who looks after our volunteers?
Corrections has a duty of care to offenders; it's our job to give them the best shot at rehabilitation we can.
Volunteers generously give their time to help offenders stop offending; this is important work and volunteers deserve the very best management from the best people for the job.
To make sure volunteers are well supported, Corrections is reviewing how volunteers are managed to make sure that they are looked after by the right people.
National Advisor Volunteers Barbara Jennings says the review is to support the ongoing involvement of volunteers, provide clarity for everyone and raise the profile of volunteer management.
In some cases currently, it can be unclear for the volunteer who they need to contact if there are any concerns or issues. This is particularly true for volunteers who volunteer for a third party organisation and that organisation runs a programme or service in a prison – is the volunteer volunteering for the third party or for Corrections? And who is the best person to support and manage the volunteer?
We would value your comments or questions about how you're managed as a volunteer – please email Corrections at volunteering@corrections.govt.nz
From our Minister Hon Peseta Sam Lotu-Iiga
Since becoming Minister of Corrections I have made it a priority to visit prisons and Community Corrections sites. I have read an enormous number of reports and briefing papers about Corrections, but there is nothing like getting out to see what is happening in person.
So far I have visited Auckland Prison, Waikeria, Spring Hill, Auckland Region Women's, Rimutaka, Christchurch Men's, Rolleston Prison, and Otago Corrections Facility.
At each I have been warmly welcomed by staff and shown how the prison is contributing to our overarching goal of reducing re-offending by 25 percent by 2017. I have spoken directly to prisoners and heard how they are going with their rehabilitation and the importance of work and their families.
At Community Corrections sites I have seen first-hand the positive work taking place to move offenders away from criminal lifestyles and focus on getting jobs and keeping out of trouble.
While the crime rate is at its lowest in 30 years, there are still too many people re-offending. I acknowledge the dedication and passion of Corrections staff to help turn around the lives of offenders and break the cycle of criminal behaviour.
Before Christmas this Government passed two laws to help protect New Zealanders from high risk sexual and violent offenders:
The Parole (Extended Supervision Orders) Amendment Act 2014 passed with unanimous support from all political parties. The Act expanded Extended Supervision Orders (ESOs) for child sex offenders and extended ESOs to include the management of high risk sex offenders against adults and very high risk violent offenders.
The Public Safety (Public Protection Orders) Act 2014 enables the High Court to make a public protection order (PPO) to detain high-risk individuals until they no longer pose a serious and imminent threat to public safety.
Having these two laws in our toolbox will make a difference with the most dangerous offenders and help keep our communities safe, which is my main priority.
Regional highlights
Read what's been happening around the regions:
Corrections marks WW100
In Flanders fields the poppies blow
Between the crosses, row on row,
That mark our place; and in the sky
The larks, still bravely singing, fly
Scarce heard amid the guns below.
– Major John McCrae
The images of white wooden crosses and red poppies endure as symbols of the suffering and loss of the First World War. The Department of Corrections has been painting white crosses and making thousands of red poppies and sprucing up local war memorials as part of the centenary of World War One and the 100th anniversary of the ANZAC Gallipoli landing (25 April 1915).
In the lead up to 25 April 2015, community work parties have been busy painting crosses for a field of remembrance and tidying the gardens at the local RSA and memorial sites. Offenders on community work cleaned up the Atatürk Memorial on the ridge above Tarakena Bay on the south coast of Wellington. In Tokoroa, the community work teams were busy preparing a howitzer for re-painting.
Although staying away from the heavy artillery, prisoners were still keeping busy. Prisoners at Spring Hill Corrections Facility used their carpentry skills to make 200 large wooden poppies for the local marae and township of Te Kauwhata. They also made 200 wooden crosses for the RSA. Similar crosses have also been painted by prisoners at Rolleston Prison for the Marlborough RSA. The women at Arohata Prison and men at Hawke's Bay and Manawatu prisons also knitted four hundred poppies for the National Army Museum. The museum has called on people throughout the country to hand-craft a poppy for every service man or woman who died in World War One; that's 18,166 poppies.
On ANZAC Day Corrections' staff will be out in force as New Zealand stands shoulder to shoulder with the rest of the world to mark the 100th anniversary of Gallipoli.
From a population of 1.1 million, 103,000 New Zealanders served overseas in World War One, resulting in 59,500 casualties, 18,200 dead and 41,300 wounded. War affected every facet of New Zealand life, and the Prisons Department was no exception.
As the war broke out prisons began to feel the combined pressure of both a rapidly reduced workforce – a third of all guards joined up – and an increasing prison population, with 300 conscientious objectors swelling prison numbers. New prison accommodation was hastily built, and with the war effort demanding all available supplies of steel, concrete was used to build Paparoa Prison (now Christchurch Men's Prison) in 1915. The roll of those who served includes a number of ex-prisoners and 'probationers' who went overseas with the Expeditionary Forces.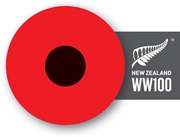 By 1918, 18 prison staff were still serving overseas; two were on home service, two had been wounded and two – Robert William Thompson and Leonard Lawrence Beresford – had been killed in action.
Private Beresford's photo features in a special WW100 exhibit that can be seen at Corrections' Heritage Centre, Mayfair House, The Terrace, Wellington.