Good to grow: How's it working?
Sebastian Collin Smyth
Intern, Chief Probation Officer's Team, Department of Corrections
Darius Fagan
Chief Probation Officer, Department of Corrections
Author biographies:
Sebastian is studying towards his Masters of Forensic Psychology at Victoria University focusing on neurodisability and youth justice. As an intern with the Chief Probation Officer's team, Sebastian mainly worked on a qualitative evaluation of the Good to Grow Agreement. Prior to this, Sebastian worked with the team on a review of cases that fail to complete community based treatment.
Darius has worked for the New Zealand Department of Corrections since 2001. He started his career working as a probation officer and believes in the important role probation officers can play in helping offenders change their lives. In his role as Chief Probation Officer, Darius is passionate about designing practice that adheres to evidence-based concepts that can be practically applied by officers in their day to day work.
---
Background
The Good to Grow Agreement was signed in November 2015 between the Department of Conservation (DOC) and the Department Of Corrections (Corrections). The agreement was developed to increase the number of projects conducted between Corrections and DOC, thus allowing more people in custody or serving community work sentences to work on conservation projects.
The projects mainly involve either producing conservation products (e.g. nesting boxes) in prison or working under supervision on public conservation land. Both activities have significant benefits; community work labour frees up DOC rangers to undertake other activities, and prisoners involved in constructing products learn new skills while DOC gains specialised items that are difficult to source elsewhere.
Evaluation
An evaluation of the partnership examined the perceptions of DOC staff, Corrections staff, and offenders and prisoners who had been involved in DOC projects as part of the Good to Grow Agreement. The questions asked were in line with the shared goals of the Monitoring and Evaluation Framework: public value, experiential and formal learning, benefits to New Zealand and New Zealanders, and connection to community.
The evaluation consisted of interviews completed over the phone or on site. The Corrections' sample was recruited through community work centres or prisons that have been working on DOC projects. DOC staff were recruited through the National Good to Grow liaison at DOC. Overall, thirteen DOC staff, twenty-five Corrections community work supervisors, five prison instructors, thirty-three people on community work, and thirteen people in custody, were interviewed.
Common themes
There were several common themes including: relationship building between local Corrections and DOC staff, the purpose and value in the projects, and the shared enthusiasm in the opportunities that the partnership offers.
Relationship building
Both Corrections and DOC staff felt local relationships were important in establishing what was feasible for either department. Overall, staff felt their local relationship was going well, but by working more closely together they would identify more opportunities for people on sentence to work on DOC projects.
Purpose and value
The evaluation clearly showed that there was value added through partnership projects, with people on sentence assisting DOC with work that is frequent and high volume. Most DOC Rangers reported a change in their focus to more specialised tasks because of the assistance by people on sentence. The value of working on the DOC projects was recognised by people on sentence, with those interviewed reporting that they felt they had "given back" to the community. Some people on sentence also felt that they were learning new work skills while working on the DOC projects. Corrections staff generally felt that they had made a difference with some large projects that would not likely have been done otherwise. The evaluation showed that those interviewed felt that the agreement was providing purposeful work.
Shared enthusiasm
Staff from both departments were enthusiastic about the meaningful projects the Good to Grow Agreement offers for people on community work or in custody. They were also positive about the visible, tangible benefits for DOC. Staff would like the partnership to continue and to explore expanding the scope of the work.
Many of the people on sentence reported enjoying the work on DOC projects, because they felt it was meaningful, or the project exposed them to new locations that they could take their families to.
Conclusion
The evaluation showed that at this preliminary stage the Good to Grow Agreement is going well and working towards achieving its targets. Staff felt that the Agreement was effective, with people on sentence contributing to projects that would not have been done otherwise. The goal of providing experiential and formal learning is being achieved, with people on sentence reporting they had learned work skills on DOC sites and, for those in custody, had worked towards qualifications.
Everyone interviewed felt the agreement had benefits to New Zealand and New Zealanders though the work done. Most of the staff and people on sentence understood that the work they were doing on DOC projects helped connect them to the community. People on community work talked about the benefit of them being able to return to the DOC sites in the future with their families.
There were some challenges identified. These included issues around suitable equipment, further relationship building needed to strengthen the partnership, and the ability for staff to choose the people on community work at DOC sites. However, overall, there was wide recognition from staff from both departments that the agreement has been positive and there is greater potential. It is expected, based on the results of the evaluation, that the agreement will continue to improve as the relationship between local staff strengthens and the projects become business as usual for community work centres.
Next steps for the agreement
The number of activities being conducted under the Good to Grow Agreement has increased. Several of the new initiatives are focused around the conservation goal of making New Zealand predator free by 2050. Corrections is supporting this goal by making predator traps in prisons and community work centres around the country. These traps are subsequently distributed to community networks or groups who are supporting predator free initiatives in their local area. In some cases, Corrections is also helping to lay the traps through community work.
Another expansion of the partnership has been the introduction of the Grow Safe Certificate. Grow Safe involves participants attending one classroom training day and one practical training day in weed management. Participants learn about the various chemicals that can be used to control weeds, how to mix and apply them safely. Upon completion of the course every participant receives a Grow Safe certificate. This certification can be useful to obtain future employment as a number of organisations, such as local councils, require support to manage weeds on public conservation or recreational areas. The Grow Safe certification approach has been trialled in Otago and the Waikato and is set to be rolled out to other locations around the country. The certification is a good example of both organisations collaborating to achieve Corrections goals such as offender education and employment, and Conservation goals such as reducing the spread of invasive weeds
on public conservation land.
Acknowledgements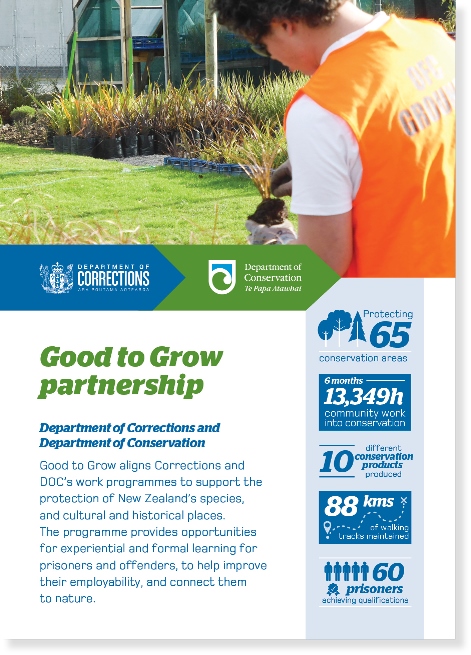 We would like to thank all the people who agreed to be interviewed for this evaluation. We would also like to especially thank Corrections staff who facilitated the interviews with people on sentence.