Types of sentences
A sentence is a punishment given by a judge. A prison sentence is the most punitive sentence a judge can impose. Some sentences such as home detention are designed to be both punitive and have a rehabilitative aspect to them.
Types of sentences
Prison
This is the most punitive punishment.
Preventive detention
An indeterminate prison sentence; prisoners may be released on parole but remain managed by Corrections for the rest of their life and can be recalled to prison at any time.
Home detention
Home detention is both a punitive and rehabilitative sentence. It requires an offender to remain at a suitable and approved residence at all times and be monitored 24 hours a day, seven days a week.
Community detention
Community detention is a punitive sentence that restricts an offender's movements during their curfew.
Supervision
Supervision is a community-based rehabilitation sentence that requires offenders to address the causes of their offending through targeted programmes.
Intensive supervision
Intensive supervision is a longer sentence and involves attending programmes to address issues that led to offending.
Community work
Community work offenders do unpaid work in the community to pay something back for the offence they have committed.
Types of orders
Orders are imposed by the court and conditions that an offender must meet are determined by the Parole Board.
Parole
Parole is granted by the New Zealand Parole Board who consider many factors before allowing someone back into the community.
Extended supervision
This is given when high risk child sex offenders leave prison and finish parole. It means they can be monitored for a period of time to make sure they are living offence-free lives.
Released on conditions
After short prison sentences (two years or less) offenders can be released but must follow specific conditions in the community.
Post detention conditions
After someone finishes a sentence of home detention they have to follow specific conditions.
Sentence hierarchy
The hierarchy of sentences demonstrates the requirement that the court must impose the least restrictive outcome that is appropriate in the circumstances.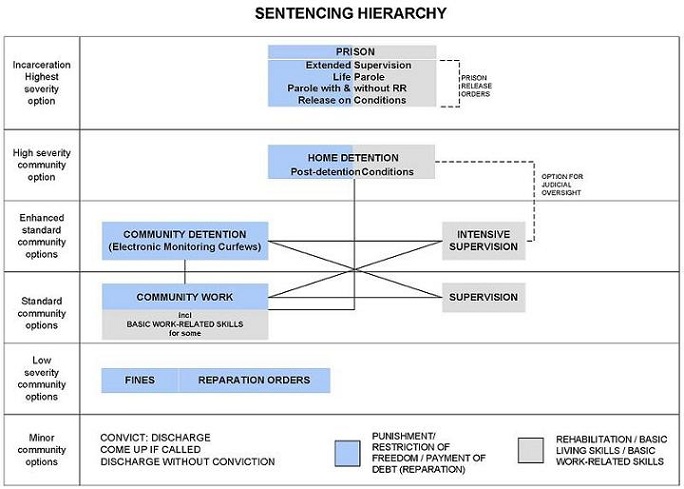 Youth Court
If a young person is seen in a youth court (See the Ministry of Justice website) they are subject to different types of orders by a youth court judge.