Appropriation - Contract Management of Services Provided by Third Parties
This appropriation is limited to preparing for and managing contracts for the provision of services provided by third parties.
What we do
This output covers the contract management of services provided by third parties to Corrections.
Operating Content
It is important to ensure that Corrections is on track to obtain contractual outcomes by the end of a contract's life. Outsourced contracts deliver operational service improvements and support Corrections' strategic goals and direction. Monthly, quarterly and annual reviews/audits of contractors' performance are key ways of measuring whether the contractors are delivering the contract outcomes sought by Corrections.
Reviews or audits provide a view on contractors' performance against contract objectives, service outcomes and obligations or performance measures and key performance indicators.
How did we perform
Previous Years

Current Year

Next Year

Performance Measures

2011/12 Actual standard

2012/13 Actual standard

2013/14 Actual standard

2014/15 Actual standard

2014/15 Budget standard

2014/15 Variance

2015/16 Budget standard

Quality

Undertake audits of the contracts through the year and report on the audit

New for 2012/13

Achieved

Achieved

Achieved

Achieved

-

N/A*
* This measure has been excluded from the 2015/16 budget and will not be reported in 2015/16.
Monthly contract reviews were completed on all major outsourced contracts and internal or external reviews/audits were completed on:
Serco (contract management of Mount Eden Corrections Facility)
Spotless (facilities management contract)
Optimation, HCL and Resultex consortium and Gen-I (Information Technology contract)
First Security (prisoner escorting and court custodial service contract)
3M.
How much did it cost?
2013/14

2014/15

2015/16

Actual $000

Actual $000

Budget (unaudited) $000

Supplementary estimates (unaudited) $000

Forecast* (unaudited) $000

Revenue

Crown

2,288

2,256

1,755

2,256

-

Departmental

-

-

-

-

-

Other

-

-

-

-

-

Total revenue

2,288

2,256

1,755

2,256

–

Total expenses

1,489

2,005

1,755

2,256

–

Net surplus/(deficit)

799

251

–

–

–
* Forecast financial statements have been prepared using Budget Economic Fiscal Update (BEFU) 2015
Corrections delivered its contract management services broadly in line with supplementary estimates.
From 2015/16 the Contract Management of Services provided by Third Parties appropriation has been integrated into the Prison-based Custodial Services appropriation.
Refer to the chart below for the composition of total expenditure by major category.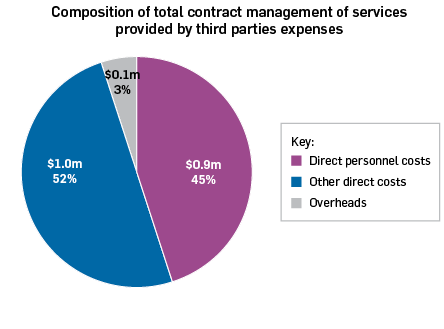 Return to the Part B Contents page