Hōkai Rangi 2019 - 2024
Download Hōkai Rangi Strategy 2019-2024 PDF, 2.0 MB
---
Foreword from the Chief Executive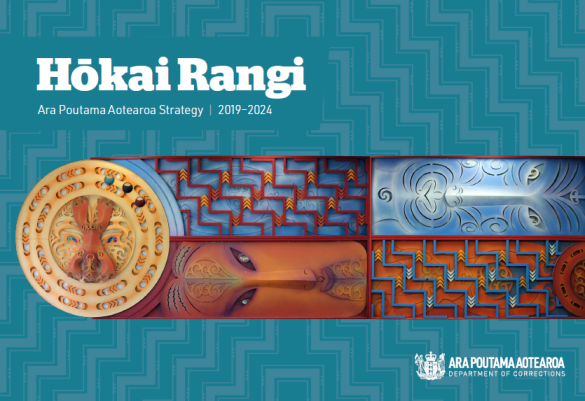 The Department of Corrections' Māori name, Ara Poutama Aotearoa, was gifted to us after extensive consultation with Māori communities and iwi. Unusually for a public service department, this isn't a direct translation of the English equivalent, but rather it speaks to the substance of our role in the justice system.
Ara Poutama Aotearoa refers to a pathway of excellence for those who are in the Department's care and under our management. It is a privilege to be bestowed a name and kōrero that reflects the efforts of the Department to empower those in our care and management to change their lives, and the lives of their whānau. However, Ara Poutama Aotearoa isn't simply a label. It conveys the responsibility that the Department has to support and guide those in our care to reach Te Tihi o Manono, the point from which unlimited potential can be realised.
Hōkai Rangi represents a new strategic direction for Ara Poutama Aotearoa: one that builds on the good things that are already happening, learns from doing, and, most importantly, innovates to find new and alternative ways of doing things to achieve better outcomes with Māori and their whānau. This strategy will underpin transformative and intergenerational change for those in our care and their whānau.
At the heart of the strategy is the concept of oranga, or wellbeing. All who participated in thinking about the strategy were clear that this must be our focus. Therefore, it is fitting that we have returned to the whakataukī, Kotahi anō te kaupapa: ko te oranga o te iwi – There is only one purpose to our work: the wellness and wellbeing of people. This whakataukī was gifted to us by rangatira at Waiwhetū Marae in 2001.
In recent years the growth in the prison population has challenged us to rethink how we provide services, facilities, and programmes, and how we interact with people in our care. We rose to those immediate challenges by providing sufficient capacity, hiring more and different people, and providing educational and rehabilitation programmes, but we must do more.
Through this strategy process we have heard that we have further conversations to have and thinking to do in three key areas:
Partnership – we have heard a need for partnership at key levels throughout our system;
Action-planning and measurement – we will need a plan for implementing our short- and medium-term actions and a set of measures and indicators so that we can track our progress; and
Accountability – there is no point having measures if we are not held to account for reaching them. We will weave accountability for these outcomes throughout our organisation at all levels, and establish an appropriate governance structure.
We will need time to understand (whakaoho), to implement (whakatinana), and to embed (whakararau) the new strategic direction. There will be changes to the way we work. Our staff and our partners are key to achieving this change. We will harness their expertise, enthusiasm, energy, adaptability, and empathy.
Through effective and authentic partnership, we can build towards the elimination of disproportionate reoffending by Māori, and continue to earn the privilege of calling ourselves Ara Poutama Aotearoa.
Purpose and context
Hōkai Rangi expresses our commitment to delivering great outcomes with and for Māori in our care and their whānau, so that we can begin to address the significant over-representation of Māori in the corrections system. This strategy therefore ultimately aims to lower the proportion of Māori in our care to a level that matches the Māori share of the general population.
We are only one part of the justice system, which starts with Police preventing and dealing with crime, moves through to the courts where people are prosecuted and sentenced or acquitted, and ends with us managing prison and community sentences and providing transition support. Our position at the final point of this process means we must work with all of our partners and stakeholders to address the challenges across the system. The policies and approaches in one part of the system can impact on other parts, and therefore joining up our approach allows us to identify these effects, and implement changes that have the best outcomes for everyone. Additionally, the extent to which society provides housing, health, and benefits/welfare is a critical factor in whether people avoid the justice system in the first place.
Our specific responsibility in this system requires us to focus on doing our best with those who come into our care and management, in order to help reduce the chances of them returning to the justice system.
We acknowledge and support the concurrent work arising from Hāpaitia te Oranga Tangata: Safe and Effective Justice – the name given to the Ministry of Justice sector work programme for criminal justice reform through systemic change, to improve community safety and the way justice works. The programme began in 2018 and has several workstreams, all focused on ensuring voices and experiences within the system are heard. Over the next six months a number of workstreams will report back on their findings, including the Justice Advisory Group – Te Uepū Hāpai i te Ora, which will focus on systemic change recommendations. Earlier this year Ināia Tonu Nei, the Hui Māori organised by Te Ohu Whakatika following the 2018 Justice Summit, was held to hear Māori voices on justice reform and provide recommendations. Later this year there will be a report from the Victims' Summit.
These work programmes and recommendations will affect and inform the way we approach and conduct our work. While we have attended many of the hui and engaged with some of the advisory groups during the development of this strategy, we will study the recommendations to ensure our outcomes and actions are consistent. A coordinated approach will also ensure that our efforts within Ara Poutama Aotearoa will be amplified, more efficient, and sustainable.
In light of this context, the purpose of Hōkai Rangi is to outline our commitment to do better for people in our care, identify our long-term vision, and define our plan for the next five years. We will focus on prioritising the wellbeing of both the people who come into our care and management and of their whānau. Through this new approach, and working with Māori in our care, their whānau, and all of our partners, we expect to improve wellbeing outcomes. A consequence of this will be a reduction in the current disproportionate recidivism rates.
Te Poari Hautū Rautaki Māori (our Māori Leadership Board), chaired by our Chief Executive, has agreed this strategy will be the 'tuakana' strategy for Ara Poutama Aotearoa. All other departmental strategies will flow from and align with it.