From Māori Therapeutic Programmes to Mauri Tū Pae
Tara Hape
Area Advisor Māori, Department of Corrections
Author biography:
Tara has been employed by the Department of Corrections for 11 years, as a probation officer, then as an area advisor Māori (Northern Region, Māori Services Team) since February 2009. Tara supported the Te Tirohanga National Programme from September 2016 to August 2017 to increase quality referrals to the programme.
---
Introduction
One of the key priority areas for Corrections is ensuring the delivery of better outcomes for Māori in our care. This would subsequently reduce re-offending rates and the over-representation of Māori under Corrections management and in the wider criminal justice sector. To date, Corrections' strategies to address Māori re-offending rates have included the development, implementation and delivery of a range of kaupapa Māori based programmes and interventions including:
Tikanga Māori Programme (now included in the Te Ihu Waka Framework)
Specialist Māori Cultural Assessment (available in selected areas and sites)
Te Tirohanga National Programme (formerly known as Māori Focus Units)
Whare Oranga Ake
Tiaki Tangata reintegration programme
Mauri Tū Pae, the current version of the Māori Therapeutic Programme.
Background
The Māori Therapeutic Programme was developed in 1998/1999 by Ken McMasters as a means to address the increasing Māori prison population of the time and to incorporate kaupapa Māori based therapy to the Māori Focus Units.
In 2010, a hui to discuss the success of the Māori Therapeutic Programme was convened at Tapu Te Ranga Marae, Island Bay, consisting of programme providers and Corrections staff. A consistent theme throughout the hui was that Māori programme providers worked more with the "wairua" of tāne in Māori Focus Units compared to facilitators in Corrections mainstream programmes. This resulted in an agreement that three of the programme providers would be contracted to rewrite the Māori Therapeutic
Programme including:
workbook terminology
cultural wording
cultural content.
The outcome of the work is a way for tāne to restore and maintain their mauri and reconnect their wairua to Te Ao Māori, or Mauri Tū Pae.
Programme Description
Mauri Tū Pae is a kaupapa Māori based group rehabilitative programme underpinned by western therapeutic modalities (e.g. cognitive behaviour therapy, dialectical behaviour therapy), the principles of Risk, Need and Responsivity, and the five kaupapa values of the Te Tirohanga National Programme. The programme is considered to be Corrections' only kaupapa Māori rehabilitative programme and on par with the Medium Intensity Rehabilitative Programme.
Mauri Tū Pae provides tāne with the tools to address their offending behaviours and triggers through problem-solving, managing conflicts and thoughts and feelings that lead to offending. The programme seeks to better meet the needs of tāne by providing a cultural context and solutions to addressing offending behaviours. It assists tāne to move from nurturing their mauri to awakening, restoring, aligning and empowering them and their whānau to build strong foundations to move forward with their mauri, mana and wairua intact.
Mauri Tū Pae is delivered by Māori service providers engaged by Corrections and requires 137.5 hours of contact time, for a maximum of ten tāne. The core components of the programme are:
Whakaāhuru Mauri – nurturing the mauri
Ngā Āhuatanga o Te Whatumanawa – emotions
Whakaoho Mauri – awakening the mauri
He Hokinga Mahara – offence mapping
Ngā Āhuatanga O Te Hinengaro – thinking
Whakapiki Mauri – restoration and revitalisation
of the mauri (safety planning)
Whakatika Mauri – adjusting and aligning whanaungatanga mauri: skills training for whānau and other relationships
Whakamana Mauri – empowering whānau with the mauri of their tipuna
Whakatau Mauri – going forward with a strong mauri foundation (safety planning)."… a balance of lifestyles awaits every one of us when we walk free and we as individuals are the only ones who have control of that balance. I found that my words and actions determined the security of my balance …" – Mauri Tū Pae graduate
The Māori Services Team supports each Te Tirohanga whare to strengthen and further embed the five kaupapa values of the Te Tirohanga National Programme. This is undertaken at Right Track meetings where Māori Services deliver training in the kaupapa values to support staff in their understanding and practical application of the kaupapa values to support tāne learnings. Furthermore, the training will assist providers, staff and tāne to more clearly link the kaupapa values to all activities throughout the whare's structured day (i.e. the induction process, hui-a-iwi, rūnanga hui, programmes, education, karakia, waiata, reo, tikanga, and physical activities).
Delivery Locations
Mauri Tū Pae is phase two of the Te Tirohanga National Programme at the following primary delivery sites:
Te Ao Mārama – Waikeria Prison
Te Hikoinga – Tongariro Prison
Te Whare Whanui – Whanganui Prison
Te Whare Tirohanga Māori – Hawkes Bay
Regional Prison
Te Whare Whakaahuru – Rimutaka Prison.
The exception to the Te Tirohanga National Programme delivery is Northland Regional Corrections Facility (NRCF). This is due to an agreement prior to the opening of the site in 2005 with Ngāti Rangi (kaitiaki). Ngāti Rangi indicated that their preference was to have a Māori focus approach applied to the whole facility, to embrace a holistic approach to re-offending, and become the first Māori focus site in the country. This discussion and subsequent agreement resulted in Mauri Tū Pae being delivered in the Pua Wānanga (whare) and available to all NRCF eligible tāne. The other exception at NRCF is that tāne with a high security classification may participate in Mauri Tū Pae if deemed appropriate by the site.
Te Tirohanga National Programme
The Te Tirohanga National Programme is a three phased programme encompassing education, treatment and post programme reintegration.
The focus of phase one is learning. Tāne complete the Te Waharoa National Certificate in Māori Level 2 delivered by Te Wānanga o Aotearoa. Te Waharoa is a 24 week programme with optional strands in Te Reo Māori (language), whakairo (carving), and te whare pora (weaving). Te Waharoa National Certificate in Māori Level 2 has literacy and numeracy components linked to the NCEA vocational pathways.
Phase two focuses on rehabilitation and treatment by tāne undertaking and completing Mauri Tū Pae. Phase three is optional and addresses any alcohol and / or drug needs that contribute to offending behaviours. Although not shown in the model below, phase four and five address employment and reintegration which can be undertaken at referring sites.
Eligibility criteria
Mauri Tū Pae is available to all motivated tāne across the prison estate who:
are in the medium risk band
meet the security classification requirements for each of the Te Tirohanga whare
are willing to undertake at a minimum, phases one and two of the Te Tirohanga National Programme
are not sex offenders
identify with any culture, however, participants are required to be open to engaging in treatment within
a kaupapa Māori framework.
Tāne on indeterminate sentences are also eligible. It is recommended that tāne are referred to the programme early in their sentence.
Priority is given to tāne who identify as Māori, are of Māori descent or who have Māori tamariki.
Mauri Tū Pae is delivered four times throughout the financial year at each delivery site, with an annual delivery target for 2016-2017 of 212 tāne. The number of tāne who commenced the programme that year was 223 and the programme had an 88% completion rate (the national completion rate target for prison based programmes is 85%).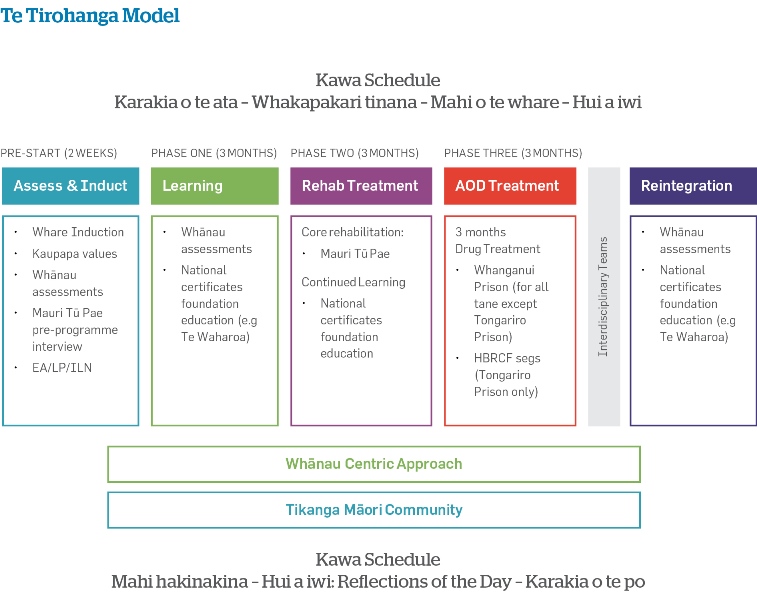 There has been significant support over the previous 12 months to raise the profile of the Te Tirohanga National Programme and Mauri Tū Pae programme through:
prisoner television ads promoting kaupapa Māori based programmes available across the prison estate
a community probation national briefing supporting the inclusion of Mauri Tu Pae and the Te Tirohanga National Programme in Provision of Advice to Courts (PAC) Reports
increased communication with national case management teams around referrals
ensuring information in the practice centre is updated
inclusion in the newly released programmes catalogue
Mauri Tū Pae maintenance delivery
pre-programme assessments
a multi-disciplinary team approach to programme eligibility.
In addition to increasing visibility of Te Tirohanga, and therefore Mauri Tū Pae, the Programmes and Interventions Team have:
established regular monthly AVL meetings with the service providers
provided facilitator training for service providers in December 2016 and January 2017
completed the programme assessment template in consultation with service providers and facilitators at each site
invited service providers to the Programmes National Training Forum to deliver a workshop.
Demographics
Given that Mauri Tū Pae is a kaupapa Māori based therapeutic programme, the prioritisation of Māori participants means 86% identify as Māori; with 10% from the Pacific Islands and 4% identifying as Pakeha/New Zealand European (see Figure 1).

Figure 1: Ethnicity of Mauri Tū Pae participants from 1 July 2016 to 31 May 2017

"…Māori, Pacific Islander or Pakeha, we speak different languages but the words are the same … the difference is within one's own interpretations and ignorance…" – tāne at Te Ao Mārama Unit (Waikeria Prison)
Furthermore, 51% of participants in the previous financial year were under the age of 30, which is the age group from which tāne are most likely to be exited or withdrawn from the programme, mainly due to misconducts or incidents that occur in the whare, not necessarily during Mauri Tū Pae sessions (see Figure 2).
"… to own one's actions and the consequences that follow, and how to express one's emotions in a positive manner, is what we hope to achieve." – Mauri Tū Pae graduate
In summary, Mauri Tū Pae has undertaken a number of transformations from its inception and pilot delivery as the Māori Therapeutic Programme at Te Whare Tirohanga Māori (Hawkes Bay Prison) to the programme delivered in 2017. The evolution of the programme has demonstrated the commitment that Corrections has to ensuring that the cultural needs of Māori in Corrections' care are being met, and that Māori subject matter experts and practitioners are consulted in review processes and rewrites. This, however, does not mean that there is no room for improvement with the programme, and currently there is work underway to strengthen and gain consistency in practice inclusive of referral processes, programme assessments and facilitator training across all services.

Figure 2: Starts via age groups 1 July 2016 to 31 May 2017