The Department's Outcomes
The Department's outcomes demonstrate what the Department aspires to achieve for society.
The Department's work contributes to the justice sector end outcome of a 'safe and just society' whereby there are 'safer communities' and 'civil and democratic rights and obligations are enjoyed'. The Department's work also contributes to the following justice sector intermediate outcomes:
Impact of crime reduced.
Offenders held to account.
Crime reduced.
Trusted justice system.
Accessible justice services.
International connectedness.
Durable settlement of treaty claims.
Effective constitutional arrangements.
The justice sector comprises the Department's key partner agencies, such as the Ministry of Justice and the New Zealand Police. Many of the Department's outcomes are joint outcomes with other agencies and other groups in the community. This means to achieve its outcomes, the Department must work with its partners.
The Department's work contributes to the following five departmental end outcomes:
Compliance with sentences and orders is ensured.
Re-offending is reduced.
Victims of crime are supported.Offenders are managed safely and humanely.
Sentence options are used effectively.
The outcomes of the Department, and how they fit into the wider justice sector, are illustrated in the following diagram.
Department of Corrections and Justice Sector Outcomes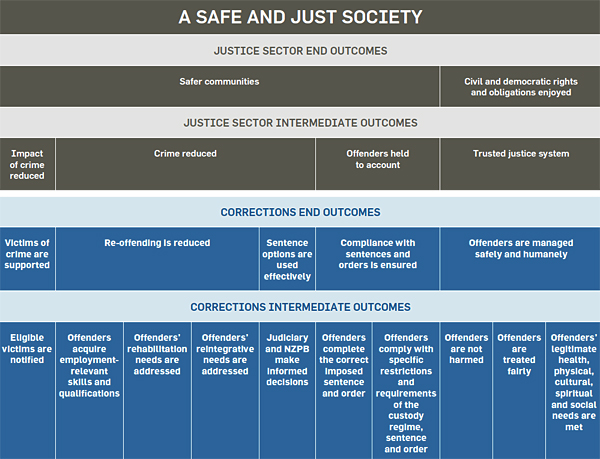 The Department is developing an initial set of indicators for each end outcome to measure the impact its work has for New Zealand. These indicators will help the Department determine whether its efforts are successful, and to change what it does to better achieve its outcomes. These initial indicators are listed under each outcome in the following Operating Intentions section. The development of a more comprehensive set of indicators will continue over the next financial year.