Approach to Managing Offenders
In accordance with the purpose and principles guiding the corrections system, the Department manages offenders through an integrated approach that applies across all sentence types, sentence lengths and locations.
When offenders enter the corrections system, there is a process to guide what happens to them during their sentence, how their needs are identified and managed and what follow-up support is required once they have finished their sentence. The offender management process is illustrated by the following diagram.
Offender Management Process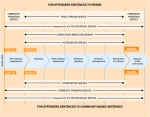 View larger image of the Offender Management Process (jpg: 316KB)
The integrated approach to the management of offenders is underpinned by tools for assessing an offender's risk of re-offending and their particular criminogenic needs. For higher-risk offenders, needs are closely matched with interventions that focus on rehabilitation. For lower-risk offenders, reintegration into the community is the key element of an approach designed to support a transition to a crime-free lifestyle.
See further details of the Department's approach to managing offenders by reading the Managing Offenders Strategic Plan.