Electronic monitoring of offenders
Corrections make use of proven electronic monitoring technology to enhance our management of offenders.
---
Electronic monitoring (EM) allows individuals to be tracked in their homes and in the community. There are two types of technology used for electronic monitoring: Radio Frequency (RF) sets up an electronic boundary to manage curfewbased sentences such as community detention; and Global Positioning System (GPS), which allows for real time tracking of movements and the establishment of exclusion zones (areas where someone is not allowed to be), and can also be set to monitor curfews. GPS is used primarily for people serving home detention, and those subject to EM conditions as part of their parole or extended supervision order.
EM devices (trackers) are attached around an offender's ankle on a strap, and assist Corrections to monitor compliance with their sentence or order. EM tracks that an offender remains at home if they are under a curfew, that they do not go into certain areas if that is a condition of their release, and that they are at their proper place of work while on a community sentence. EM is also used for minimum security prisoners who have been granted temporary release from prison to undertake paid work.
EM strengthens Corrections' ability to enforce the conditions of sentences or release orders. It does not replace regular visits to Community Corrections sites, or visits by a probation officer to an offender's home; neither does it replace regular contact with an employer to confirm if an offender has attended work. It simply adds an extra level of assurance, and provides information to a probation officer to better understand a person's movements.
EM is one part of the tool-kit that probation officers use to manage offenders, which also includes regular risk assessments, rehabilitation programmes, other programmes focused on delivering employment and education outcomes, positive community support and one on one meetings with the offender. In certain circumstances, details provided by EM can help police to track an offender if their movements place them at the scene of a crime.
Corrections has used EM since 1999 when a pilot for home detention was undertaken. Up until 2012 Corrections used only RF technology; at this point we introduced GPS technology for a small number of offenders subject to EM as part of their management in the community. In 2015 we transitioned to the use of GPS for home detention and offenders on parole with an EM condition. New Zealand is now one of the single biggest users of GPS technology in a corrections jurisdiction, with countries such as England beginning to convert their RF technology to GPS.
The types of devices that we use are also used in 40 jurisdictions across Europe, the US and Asia. The company 3M is our supplier with over 200,000 offenders worldwide fitted with an EM device. The strap used to hold the device on the ankle must meet health and safety standards, which means that it can be removed in an emergency. This is a common standard across comparable jurisdictions.
Corrections works with other agencies when using EM
Corrections does not decide who gets to wear EM anklets. The court will decide if EM is appropriate for a community detention or a home detention sentence. The court may also impose an extended supervision order (ESO), however it is the Parole Board that imposes any special conditions attached to it, including EM. For electronically monitored parole restrictions, it is the Parole Board that may make it a condition of a prisoner's release.
Corrections also has a staff member dealing with EM at Police headquarters, to ensure that communication between the two agencies is fast and efficient.
Electronic monitoring improves our ability to hold offenders to account
The trackers receive GPS signals sent to them from satellites, which pinpoint the offenders location. This information is passed on to the monitoring centre through the cell phone network.
All offenders on EM are monitored 24/7 and the centre monitors around 4,000 offenders on EM sentences and orders, and on EM Bail. It provides additional monitoring support for a small group of higher-risk offenders, those subject to EM conditions on parole and ESOs.
The information that the monitoring centre and response team receives is matched against an offender's release conditions. If the tracker shows a breach then the monitoring centre and/or response team are alerted, who in turn contact the appropriate probation officer for action. This may include a police response.
In August 2015, Corrections enhanced its response if an offender tampers with their tracker. If a strap tamper occurs, 3M must take action within 60 seconds of the alert being activated. For all alerts that require a field officer to be dispatched, this must be done within 10 minutes of receiving the alert. On receipt of a dispatch the field officer will travel directly to the location. If the field officer finds that the offender has absconded, 3M will notify Corrections immediately, who will then notify police.
For the higher-risk offenders (around 200) 3M now contacts the Department's GPS Immediate Response Team. This response is proportionate to the type of incident and the nature of the sentence being served. This can include direct escalation to police, dispatching a field officer, making contact with the offender or a combination of these.
Offenders on the highest level of sentence in the community are on ESOs. These offenders are subject to intensive monitoring conditions and a small group are monitored 24 hours a day by live in staff at their accommodation with EM trackers worn. Offenders on an ESO without intensive monitoring but with EM are subject to a range of special conditions and rigorous oversight from their probation officers.
Offenders serving a sentence of home detention in their house have regular visits from probation staff as well as wearing trackers, and their risk is generally lower.
As at 30 June 2016:
1,629 offenders were on community detention with EM
1,603 were on home detention with EM
448 were on EM Bail
142 were on temporary release from prison with EM
105 were on parole with EM
94 were on extended supervision orders with EM
The average length of time these offenders were on EM was 3 years and 55 days.
Breaches while on EM
EM trackers set off an alarm in the monitoring centre if an offender has failed to charge the batteries of a GPS tracker, or if they attempt to cut or interfere with the anklet strap. If the offender is considered high-risk, the GPS Immediate Response Team will send out a field officer or the police, and will alert the probation officer immediately.
Altogether, 93.2% of these incidents were responded to within timeframes set by Corrections to ensure a prompt response. These incidents, both serious and non-serious, are recorded as breaches of electronic monitoring.
At any one time Corrections monitors around 4,000 offenders on EM. Approximately half to one percent (0.5% – 1.0%) of these offenders (including those on EM Bail) may have illegally removed their trackers and absconded (this equates to between 20 and 40 individuals).
As at 30 June, 15 offenders had absconded and were being sought by police.
Looking back over 2015/16
During the 2015/16 year, 13,499 offenders were monitored on EM for all or part of the year. 97.1% of these offenders did not remove their tracker during the course of their sentence or order. When excluding those offenders managed under EM Bail this level of compliance increases to 98.2%.
Offenders monitored under EM Bail pose a higher level of complexity (compared with other EM monitored sentences) for the Department to manage. As part of the application process for EM Bail, the Department will submit an EM Suitability Report to court and often recommend that an offender is unsuitable for EM Bail monitoring. The final decision on sentence is made by the court. During 2015/16 two thirds of offenders on EM Bail who removed their tracker and absconded were not recommended as suitable by Corrections.
Notwithstanding the marginal level of non-compliance (tracker removal) with the conditions associated with EM, the performance results demonstrate that the use of EM is an effective alternative to more costly custodial sentences. If it was not for these sentence and bail options, as many as half of those electronically tracked would be on a custodial sentence. The use of EM also enables Corrections to work with these offenders in the community where rehabilitation outcomes achieved can be more effective than that which could be achieved if the offender was given a custodial sentence.
There were 108 offenders serving ESOs under EM in the community, with three having removed their EM tracker in the ten months from August until June this year (the period for which removal figures are available). EM was also in place for 268 offenders on parole, with 11 of these having removed their EM trackers across the same period.
In this period, 171 tracker removals were by offenders on home detention, and 41 by offenders on community detention, making a total of 226 offenders serving Corrections managed EM community-based sentences who removed their trackers.
There are a range of consequences for breaches, from bail being cancelled and the offender moved into custody on remand, through to the cancellation of their community-based sentence and replacement by a prison sentence, or recall to prison for those subject to parole.
The overall performance results for offenders serving sentences with EM conditions for the 2015/16 year were:
Only 3.5% of offenders on EM were reconvicted of a new offence while still serving their sentence under EM conditions (that is, the offence and the entering of a conviction and sentence occurred during the period when the EM conditions were in effect).
10.0% of offenders on EM were reconvicted of a new offence committed while under EM conditions but where the conviction and sentence was entered either during the period when the EM conditions were in effect or was entered in the months after the end of the sentence.
We hold 3M to high standards of performance
The contract that Corrections has with 3M has performance standards in it. For example, each month, 95% of equipment is required to be free from defects and operating as designed. In 2015/16, 99.2% of equipment was free from defects in each month, well above the level required in the contract.
A total of 87.5% of performance standards have been met or exceeded for 2015/16. Standards not met related to time frames around checks to ensure that locations for offenders in the community were feasible, through to response actions and installations of trackers. Penalties were applied for failed standards.
Managing offenders on EM requires at least 5,700 pieces of equipment to be operating effectively every month. A process that involves the production and distribution of complex electronics will involve some instances of defects, and a system involving the real time monitoring of around 4,000 offenders will experience some level of disruption from time to time.
EM provides a level of assurance that enhances the work of our community probation staff to ensure that offenders adhere to the conditions of their release and sentences.
It does not replace the personal intervention of our staff to monitor offenders in the community, but it does improve offender management because it shows where the offender has been between visits to Community Corrections sites, as well as their whereabouts at other times.
Any breaches are taken seriously, and we are working well with 3M and police to hold any offender to account who tampers with their tracker or absconds.
During the 2015/16 financial year no performance notices were issued to 3M.
Corrections will continue to test the use of new technologies to strengthen its ability to monitor offenders in the community, with the success of EM being part of this process.
EM Bail
EM Bail is a form of bail that people remanded in custody while awaiting trial or sentencing can apply for. The remanded person can apply to the courts for EM Bail as often as they like.
Those on EM Bail are not under a sentence managed by Corrections, as they are still progressing through the court process and are awaiting a conviction or sentence. Corrections will make recommendations as to whether a person should be monitored on bail, but the decision rests with the judge.
Corrections' monitoring role is simply to ensure that the person on bail meets their movement conditions, and we contact police if they do not.
Corrections assists with the EM Bail application process by interviewing the defendant and assessing them for suitability. Corrections also assesses the prospective residence and checks for suitability for EM, and will also interview the other occupants of the residence to gain their consent and assess their ability to support the defendant.
Corrections submits its EM Suitability Report to court as part of the application for EM Bail. Corrections may recommend that someone is unsuitable for EM Bail for a range of reasons, including previous non-compliance or if the occupants of the residence have not given their consent. However, it is the judge who determines whether someone is granted EM Bail, not Corrections.
If someone is granted EM Bail they may have a number of bail conditions they must adhere to, such as abstinence from alcohol or drugs, or not contacting victims and witnesses. Police are responsible for the person on EM Bail and ensuring that they meet their bail conditions.
Corrections supports police with EM Bail by providing the EM component. EM bailees are monitored by 3M as with other offenders on EM sentences and orders. Corrections provides support for the monitoring of any approved absences for defendants on EM Bail.
As at 30 June this year 448 bailees were on EM Bail, and 19 had absconded and were being sought by police.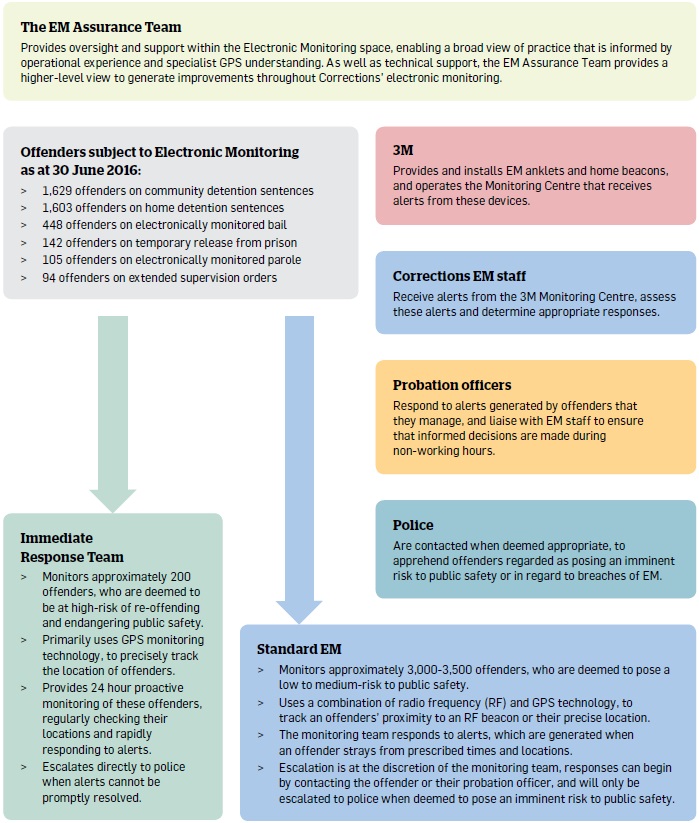 ---
View the previous section | Continue to the next section