Financial overview
The following pages provide an overview of our financial performance for the year ended 30 June 2016
---
Overall results
The Department incurred total operating expenses of $1.3 billion which was $15.9 million (1%) below the supplementary estimates and $66.4 million (5%) above the previous year.
The increased year on year expenditure was mainly attributable to a full year impact of operations at Auckland South Corrections Facility following service commencement in May 2015.
A relatively stable prison population in previous years enabled us to meet cost pressures in the past by implementing a number of savings strategies. This year we did manage to achieve intended savings from initiatives including streamlining our staffing structures in prisons to unify the delivery of services and the decommissioning of a number of end-of-life beds.
Through Budget 2016 our baseline has been reset to reflect the impact of the higher prison population and continued growth projected by the Justice Sector Forecast.
The revenue received by Corrections was $1.3 billion, which was $13.5 million below the supplementary estimates. This was mainly due to the recognition of lower Crown revenue to reflect the transfer of funding to 2017 and outyears relating to pre-approved in-principle expense transfers.
While our income is predominantly provided by the Crown we also generate a small revenue stream from our offender employment activities such as farming, distribution and other industries. The timing of livestock sales has attributed to offender employment revenue being slightly below the supplementary estimates.
During 2015/16 Corrections received settlement proceeds of $8 million from Serco to cover the cost of the Step-In at MECF. In addition, $1.7 million of insurance proceeds was recognised relating to settlement of claims for the 2013 Spring Hill Corrections Facility riot.
Income
The graph below illustrates the sources of the Department's revenue.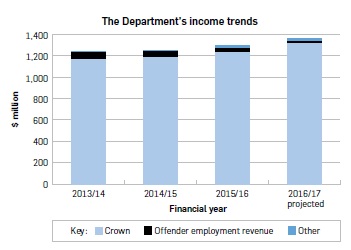 The graph below illustrates the composition of offender employment revenue as shown in the income trends graph by activity.
Expenditure by cost category
Nearly 80% of our $1.3 billion spend in 2015/16 related to workforce and asset ownership costs. We employ nearly 8,000 staff which results in $559 million of personnel costs that makes up 43% of our total spend. Approximately 85% of our workforce is deployed in frontline roles which are highly specialised and require a considerable investment in upfront and ongoing training.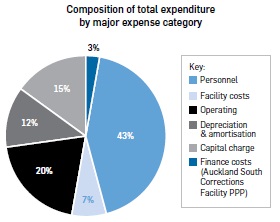 Expenditure by output
The graph below illustrates the outputs we delivered and the portion of expenditure incurred to deliver each output. By far the largest portion of our total spend goes to providing custodial services.
The graph below shows our output expenditure appropriation approved to 2019/20, reset through Budget 2016 to reflect the impact of the sustained prison population growth according to the Justice Sector Forecast.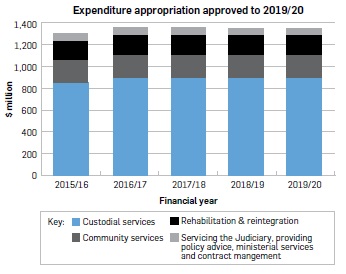 * The following appropriations were disestablished and replaced with a Multi-Category Appropriation called Public Safety is Improved for 2016/17 in order to align the appropriations with the Department's strategic outcomes: Prison-based Custodial Services, Sentences and Orders Served in the Community, Information and Administrative Services to the Judiciary and New Zealand Parole Board.
Asset base
We own $2.7 billion of non-current assets that operate the length of the country, with many facilities operating 24 hours a day, seven days a week. Our non-current assets include:
Property, plant and equipment – $2.6 billion
Assets related to offender employment activity including farming – $13.9 million
Intangibles (software) including offender management systems – $76.6 million
Facility costs, depreciation and amortisation, capital charge and finance costs (Auckland South Corrections Facility PPP) represent 37% of our total 2015/16 spend.
Corrections' asset base, which includes 18 prisons1, must be fit-for-purpose, safe and secure, ensuring public safety is maintained and sentences are completed, while also enabling employment, training, skills development and rehabilitation opportunities for prisoners.
In order to continue to manage the prison population, Corrections has undertaken a capital programme to reconfigure some prisons, expand double-bunking and introduce additional units to increase capacity by 374 beds over the next 12 months. This work forms the basis of the Prison Capacity build programme, phased over the next four years, to restore the networks essential capacity buffer and to ensure that sufficient capacity is available to accommodate the forecast growth in the prison population. In addition, work on the new maximum security facility at Auckland Prison (via a design, build, finance and maintain, Public Private Partnership with Next Step Partners Limited) is progressing well and is on target for completion in late 2017. Under the agreement custodial operations will continue to be carried out by Corrections. While the total maximum prisoner capacity will remain unchanged, the new modern facility will ensure: the safe containment of prisoners, that prisoners who have high and complex needs can receive care in an environment that supports them, the delivery of high quality rehabilitative and reintegrative services as well as staff safety.
Capital expenditure
Corrections incurred $246.7 million of capital spend in 2015/16. This comprised $120.4 million for property assets, $102 million on Public Private Partnership (PPP) arrangements, $16 million on information technology and $8.3 million on other items such as fleet and plant replacements.
Property expenditure included $81 million for property and prison development projects, $15.5 million for electronic security, $11.4 million for Community Corrections site developments, $4.5 million for early development of prison capacity works and $8.3 million for minor works and asset replacements.
In particular, property expenditure included enhancement works at Auckland Region Women's Corrections Facility, Spring Hill Corrections Facility and Northland Region Corrections Facility, the replacement and enhancement of electronic security systems, construction works on the new Public Protection Orders facility and ongoing facilities lifecycle asset replacements.
Information technology expenditure included single web-based user interface for probation and prison offender management, business reporting and analysis, Personalised Prisoner Self Service Application (PPSSA) and upgrade of the Department's information technology platform to meet the increasing storage demands of core systems.
---
1 This figure includes Auckland South Corrections Facility which is privately operated through a contract with SecureFuture Wiri Limited.
---
View the previous section | Continue to the next section